Specialized Equipment
Our services
Rentals
We specialize in the transportation of oversized and over dimensional loads in Quebec, Ontario and the Maritimes provinces.
Our wide range of trailers allows us to offer more varied transport services, all to meet your needs, whatever they may be.
Whether for a rental of a tandem, tri-axle, 3 and 4 axles and dump trailers or our live bottom trailers, we will satisfy all your requirements for each project.
Robinson is synonymous of trucking
---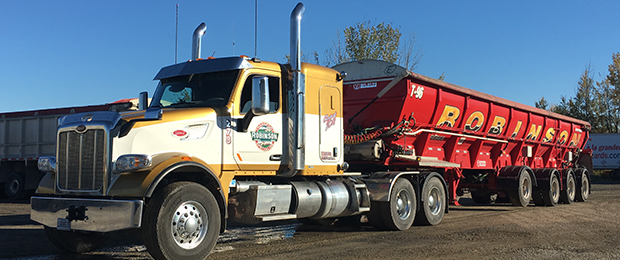 The name "Robinson" as been synonymous with trucking for over 50 years. This reputation has been gained through decades of challenges, but also successes and triumphs. Our families, our employees and our customers have all been essential to the growth and stability of our company and we are very grateful for their continued efforts and their confidence. From our original challenge to today expectations, customer service is our mission, our reason for being.
We sincerely hope that all who come into contact with our company will be leaving satisfied.

---